Starting a new thread, because my memory-related issue is solved and the actual problem is totally unrelated. I'm stuck with a white screen because there is no activity on the CLK line.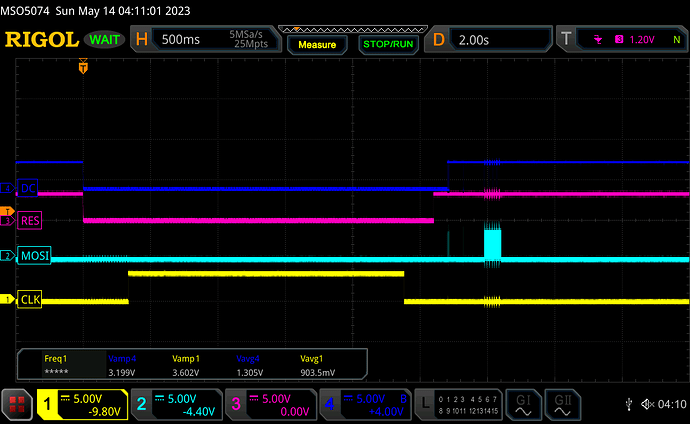 Other than a long pulse at init, there are no edges on the CLK line. You can see a burst of data being shifted out on MOSI around 3s after the RST line is asserted, but no corresponding CLK pulses. I have looked around at other times later in the capture, and I can see activity on DC and lots of data on MOSI, but never any clock pulses.
I have main.py in the ESP's flash, with the following contents:
import lvgl as lv
from ili9XXX import ili9341
import espidf as esp
import time
from machine import Pin

disp = ili9341(factor=16, mhz=10, miso=12, mosi=13, clk=14, cs=4,
               dc=27, rst=26, spihost=esp.HSPI_HOST)

scr = lv.obj()
btn = lv.btn(scr)
btn.align_to(lv.scr_act(), lv.ALIGN.CENTER, 0, 0)
label = lv.label(btn)
label.set_text("Hello World!")
lv.scr_load(scr)

I have also tried the following code to wiggle the pin directly and it works as expected:
from machine import Pin

clk = Pin(14, Pin.OUT)

while True:
    clk.on()
    time.sleep_ms(200)
    clk.off()
    time.sleep_ms(200)

Anyone got any idea what may be causing this?
Finally, a related supplemental question - how do I initialise the display object without providing a CS line? My display doesn't have one, and setting cs=None produces an error.
Many thanks.