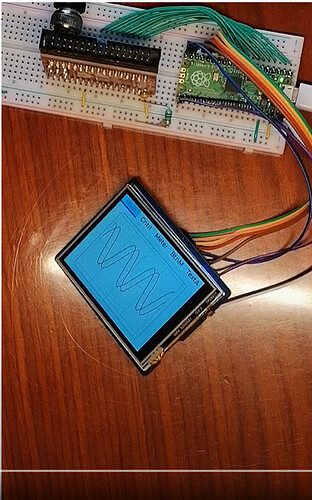 Video here:
https://youtu.be/rAWYpLoQVxY
This project uses pure micropython drivers for LCD and Touch screen controller.
The LCD uses the ST7789 driver connected via SPI at 24MHz. Thanks to the DMA most work is done by hw so python implementation dosent affect to the FPS.
For TSC, it uses same SPI at 1MHz, but calls per sec are too low so it dosnt afect to the FPS performance.
LCD board: https://www.waveshare.com/wiki/2.8inch_TFT_Touch_Shield
The ADC used is an ADC08100 that is readed via PIO state machine(+DMA too) achiving 100M Samples Per Second. The ADC breakout board from olimex https://www.olimex.com/Products/FPGA/iCE40/iCE40-ADC/open-source-hardware
The CPU is running at 200MHz and second core still unused.