Hello!
I have started a new project with ESP32-S2 and a small ST7789 display with 240x135px resolution. Kept everything rather simple so far, made a few minor changes to the esp32 port run with V8 and on esp32-s2, nothing critical, setting up platformio was the biggest hurdle, but got that sorted as well everyting compiles and uploads fine, logs via serial are as expected. Triple checked schematics and IO numbers, all pins have pull-ups (except led backlight which is pulled down).
It seems I am running into some issues with the SPI bus and CS. I have scoped it out and found that the CS pin is only low during setup, but not during the actual SPI transaction as can be seen in this screenshot from my scope: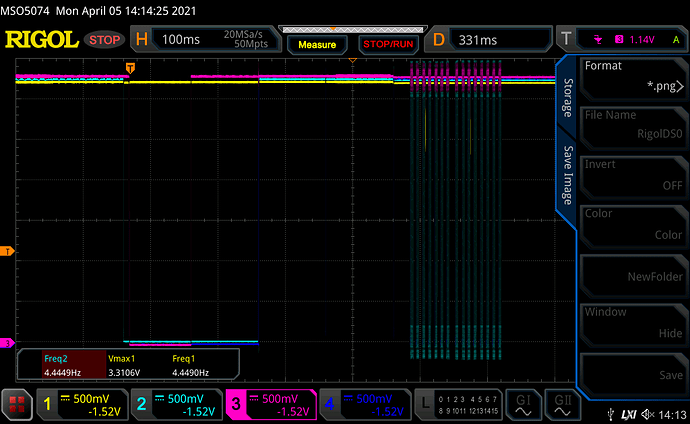 Channels:
1: MOSI (yellow)
2: CLK (light blue)
3: CS (pink)
4: DC/RS (not reset) (dark blue)
I have uploaded the code to a github repo: https://github.com/lienbacher/ESP32-S2_LVGL_ST7789
It is a VSCode/PlatformIO project.
I have spent quite some time trying to find out why it does this trying to understand the low level spi code in the driver, but have not found any issues. From what I see the CS pin should be pulled low during transactions by the spi interface, at least everything seems to be configured correctly.
An clues about why I am seeing this kind of behavior?
thank you!