Description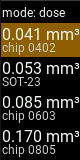 I need simple list with 2-lines elements, controlled from keyboard. Now use page + [cont + 2 labels]*N.
Memory consumption is 2K per every 5 additional items. That's too much. Is there any method to reduce?
What MCU/Processor/Board and compiler are you using?
Now - PIO+SDL2+Ubuntu
Target - stm32f072cbt6 (128k flash + 16k ram)
What do you want to achieve?
Less memory consumption for list
What have you tried so far?
Dropped everything. Every list item is just cont, not button
No themes. Created 3 global styles and apply those everywhere
Code to reproduce
Open project, change list content as you wish and run sdl2 build. It prints mem stat to console.
Screenshot and/or video
See above.