I'm a big fan of LVGL and have used it in a lot of projects, for clients and for myself. One of my most in-depth projects uses it for a thermal imaging camera called tCam. tCam is comprised of an ESP32 development board called gCore and a Flir Lepton 3.5 based thermal imaging module called tCam-Mini. gCore has an 8-bit parallel port to the 480x320 pixel ILI9488 based capacitive touch display connected to the ESP32 VSPI peripheral that lets it run at 80 MHz which makes LVGL scream.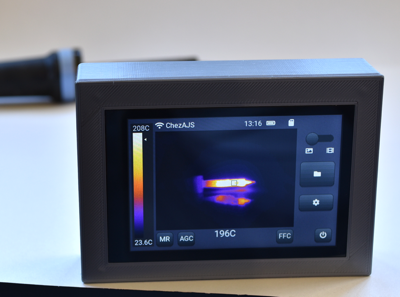 The project has been released as open source (GPLv3) at the tCam respository.
tCam uses the now old v6 LVGL because it had easy-to-use themes and I liked the night theme (sorry kisvegabor

)
One cool thing I implemented was a memory frame buffer that enables a screen dump function. You can send the camera a command and get back the contents of the display. It does this by switching the low-level driver from the ILI9488 driver to the memory frame buffer and forcing LVGL to redraw, then dumping the memory frame buffer to the external application that can save it as a png. Here are a few screen shots from the camera (some are annotated as they went into the documentation).