Hi,
I have purchased a STM32F769DICO.
This card is supported by lv_micropython ?
Thank you
I believe the board is supported by MicroPython itself, however, you would need to add display driver logic to get it working with LVGL, as I don't think upstream MicroPython ships with display support for this board.
Hi,
Today micropython is works
~/micropython/board/stm32
make BOARD=STM32F769DISC ... ok

but when i build in
~/lv_micropython/board/stm32
make BOARD=STM32F769DISC ... error

in
~/lv_micropython/

there is only BOARD=STM32F7DISC that works (µC = stm32F746) but is wrong target
Thank you
Yes; as I mentioned, additional logic needs to be added for F769 to work. I believe F429 and F746 are the only supported STM32 boards at the moment.
I think there are two separate issues here.
The board itself is supported by micropython, so should also be supported by lv_micropython.
STM32F769DISC board appears on lv_micropython so it's not clear to me why make BOARD=STM32F769DISC fails. I would expect it to compile and run, although without display driver so it wouldn't be able to actually display anything.
Only STM32F7DISC has LVGL display driver (as of today), so someone would need to write/port a display driver for STM32F769DISC
Hi,
Thank you for your response. There is a video youtube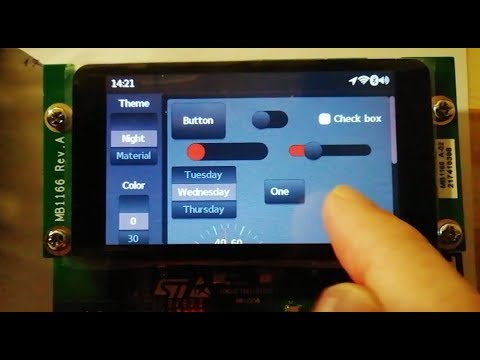 I suppose that a driver is already exist ? no ?
Thank you
If a driver exists, you just need to compile it with LVGL and Micropython.
You probably also need to add a small wrapper to provide a Micropython API (at least to init/deinit the driver).
That video is using the C driver.
Ok thank you,
The driver C can be convert in micropython ? I have like to try but i don't know how to start.
Where to find this C driver ?
Thank you
I am also curious about this, unfortunately do not have time right now with other work projects, but running LVGL on a STM32H7 (NXP iMX RT MCUs would be nice but not directly supported by Micropython) with the direct RGB interfaces would be a very interesting combination for me. I would really like supporting up to 1280x800 resolution.