Description
I have noticed that when using headers on windows a weird line is created under it, and i can't find a way to remove it or another post addressing this.
What MCU/Processor/Board and compiler are you using?
I'm using a Simulator
What LVGL version are you using?
I have a pretty new version, and the same problem occurs in the documentation, so i don't think that a new feature has been added addressing this
What do you want to achieve?
I would like to know how to modify this line if it is even possible as of right now.
What have you tried so far?
I have tried different things and experimented, so I'm certain that the line is a part of the header, because it doesn't show when header height is set to 0.
I also took a look at the lv_win.c file, to try to figure out where the line was being drawn but since I'm a beginner i couldn't seem to figure it out .
Code to reproduce
This is the exact code from the documentation
#include "../../../lv_examples.h"
#if LV_USE_WIN

void lv_ex_win_1(void)
{
    /*Create a window*/
    lv_obj_t * win = lv_win_create(lv_scr_act(), NULL);
    lv_win_set_title(win, "Window title");                        /*Set the title*/


    /*Add control button to the header*/
    lv_obj_t * close_btn = lv_win_add_btn(win, LV_SYMBOL_CLOSE);           /*Add close button and use built-in close action*/
    lv_obj_set_event_cb(close_btn, lv_win_close_event_cb);
    lv_win_add_btn(win, LV_SYMBOL_SETTINGS);        /*Add a setup button*/

    /*Add some dummy content*/
    lv_obj_t * txt = lv_label_create(win, NULL);
    lv_label_set_text(txt, "This is the content of the window\n\n"
                           "You can add control buttons to\n"
                           "the window header\n\n"
                           "The content area becomes\n"
                           "automatically scrollable is it's \n"
                           "large enough.\n\n"
                           " You can scroll the content\n"
                           "See the scroll bar on the right!");
}

#endif

Screenshot and/or video
This is a picture from the documentation, but the line is a bit difficult to see so i have included a picture of my own where its easier to spot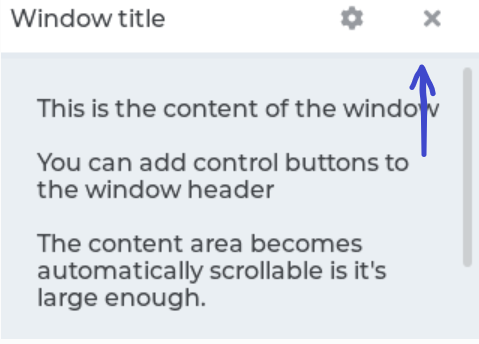 Picture of my own project showcasing this weird line: