LittleVGL PNG Image Files vs C Array Issues, other graphics
Hello Gabor, Thank you for your great support so far. As you recommended I am putting on the forum the remaining issues, and I could not upload the zip file on the forum for pc simulator demo project with the test code for you to look at (it said new forum users cannot upload anything, so let me know how I can upload to you the demo project or I can just copy and paste the code here if you prefer). We just added to your write-list-chart demo a few more screens of what we needed to be able to render with your API. BTW, please excuse that the test code for proof of concept is rough, it was just to be able to show you an example of the level of complexity we need per screen so we could determine if using your API was an option in our project. Issues as follows:
To your demo project added two test windows so you can see the type of graphics we will need to be able to run on our embedded device also see screen shot below). Mainly, it will be png images both in the body and push buttons with images loaded onto the buttons. If you remember when we tried to use the png decoder api with loading the files we ran into all the wierd problems, but as you guided we then used your online decoder to convert the png's to C arrays, then your API work with what we need to be able to do. Is it possible to load the files directly (because we have a lot of png files for a lot of screens), or is the only option at this time is to convert them all into C arrays given what we need to be able to do?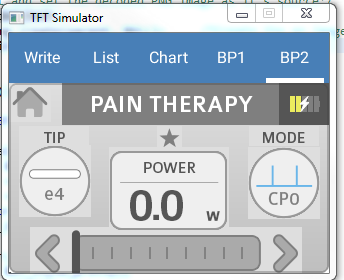 When we used your guidance per email to import the png image (via converted C array) onto a button, we could not figure out how to make the button completely transparent. (as you will see in the code, we just made it the same color as the background) Is there a better way with your API?

When we import the PNG via your API (either as C Array or otherwise), can we manipulate anything about the image i.e., its size? Or the PNG has to be perfect, including its size to fit onto a button, before we import it for use in littleVGL.

I had to comment out some of the littleVGL code so the PC simulator demo would not crash. Also the demo project crashes unless I comment out lines relating to updating the chache in the lv_font_fmt_txt.c file 4 lines in static uint32_t get_glyph_dsc_id(const lv_font_t * font, uint32_t letter). Is this the PC simulator specific and port it to our embedded latform and see if it is still a problem?
'''/Update the cache/
//tamtest fdsc->last_letter = letter;
//tamtest fdsc->last_glyph_id = glyph_id;
return glyph_id;
}
//tamtest fdsc->last_letter = letter;
//tamtest fdsc->last_glyph_id = 0;
'''
Thank you Again, Tammy