Description
Hi, I'm facing issue with missing build-in icon (any SYMBOL_BATTERY_ ).
Sometimes instead of icon I see "?" symbol (see picture in the end of post).
In what cases "?" used and what does it mean?
I CANT reproduce this on PC simulator, but on MCU this happens in pretty stable maner.
Maybe someone have idea where to pay attention?
What MCU/Processor/Board and compiler are you using?
ESP32 with esp-idf ; LVGL 5.3
What do you want to achieve?
Displaying icons or understand reason why this may happens. Lack of memory? Miss position of some element?

What have you tried so far?
I'm testing with different sizes of header, different alignment, different strings.
I noticed that this happens when I use cyryllic strings in header, with english text it always work.
Code to reproduce
Here is code, but again, on simulator this works and dont cause issue…
lv_obj_t * draw_battery_header(uint8_t bat_percent)
{
	lv_obj_t * label_battery = lv_label_create(lv_scr_act(), NULL);

	switch (bat_percent)
	{
	case 100:
		lv_label_set_text(label_battery, SYMBOL_BATTERY_FULL);
		break;
	case 75:
		lv_label_set_text(label_battery, SYMBOL_BATTERY_3);
		break;
	case 50:
		lv_label_set_text(label_battery, SYMBOL_BATTERY_2);
		break;
	case 25:
		lv_label_set_text(label_battery, SYMBOL_BATTERY_1);
		break;
	default:
		lv_label_set_text(label_battery, SYMBOL_BATTERY_EMPTY);
		break;
	}

	lv_obj_align(label_battery, NULL, LV_ALIGN_IN_TOP_LEFT, 9 , 5);

	return label_battery;
}

lv_obj_t * scr_set_header(const char* lang_txt, const char* default_txt)
{
	lv_obj_t * header = NULL;
	lv_obj_t * battery = NULL;

	battery = draw_battery_header(100);

	header = lv_label_create(lv_scr_act(), NULL);

	if (lang_txt != NULL) // specific lang name string exist
	{
		lv_label_set_text(header, lang_txt);
	}
	else // if no name found - load default english text
	{
		lv_label_set_text(header, default_txt);
	}

	lv_obj_align(header, battery, LV_ALIGN_OUT_RIGHT_MID, 2, 0);
	lv_label_set_long_mode(header, LV_LABEL_LONG_ROLL);
	lv_obj_set_size(header, 102, 20);
	lv_label_set_anim_speed(header, 60);
	return header;
}

static void screen_with_missing_battery()
{
	static lv_obj_t * scr = NULL;

	scr = lv_obj_create(NULL, NULL);

	lv_scr_load(scr);

	scr_set_header(NULL, "Результат"); // with English text alwys work fine
}

Screenshot and/or video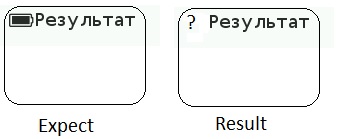 Here is how looks like on MCU screen