Best way to structure different "screens" that share an object?
What MCU/Processor/Board and compiler are you using?
PC Sim with platformIO
What LVGL version are you using?
7.9.1
What do you want to achieve?
As seen in the screenshot, the final GUI should contain a navbar + a content screen. The navbar remains constant while the content can change, something like a sticky header in a website. However, I am not able to set screen transparency and recreating the navbar when the content changes may not be ideal.
Can anyone advise what is the best way to achieve my goal?
Ideal scenario: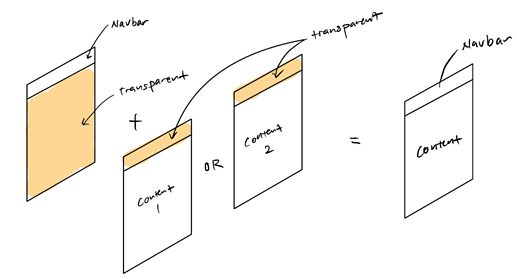 What have you tried so far?
Initial approach:
Create the navbar container + the respective content in a container altogether in 1 screen. When I switch to content #2, the navbar gets recreated again.
/*pseudo code*/
// Upon power on
lv_navbar_init();
lv_content_1_init();

// if some button is toggled
lv_navbar_init();
lv_content_2_init();

Presumably a better approach:
However, I thought that a better alternative would be to initialize the navbar in a screen, the contents in another screen and overlay them like in the screenshot above.
But based on what I know, screen transparency is not available on 16bit color displays. I did attempt to set screens to be transparent on the pc simulator with the following settings:
lv_style_set_bg_opa(&styles->scr, LV_STATE_DEFAULT, 0)
set display opacity to 0 via lv_disp_set_bg_opa()
and I got this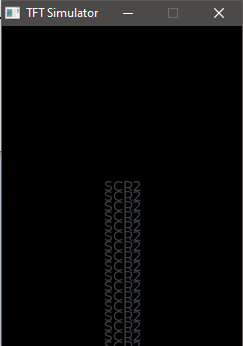 Code to reproduce
Ideally, one should see both SCR1 at the top left and SCR2 in the middle.
    lv_obj_t * scr = lv_obj_create(NULL, NULL);
    lv_obj_t *scr_label = lv_label_create(scr, NULL);
    lv_label_set_text(scr_label, "SCR1");

    lv_obj_t * scr1 = lv_obj_create(NULL, NULL);
    lv_obj_t *scr_label2 = lv_label_create(scr1, NULL);
    lv_label_set_text(scr_label2, "SCR2");
    lv_obj_align(scr_label2, NULL, LV_ALIGN_CENTER, 0, 0);

    lv_scr_load(scr);
    lv_scr_load(scr1);