Description
Hi!
It's the first time i'm using lvgl and i'm quite stuck with setting it up. I'm also new to the espressif ide/idf environment, so that's not helping either…
What MCU/Processor/Board and compiler are you using?
esp32 with espressif IDE
What do you want to achieve?
I want to get a squareline project running on my esp32 with lvgl.
What have you tried so far?
I cloned the lv_port_esp32 project and I can build and flash it on the esp32. I can get other examples to work from the menuconfig but I can't get examples working that are not given as a choice in menuconfig. I tried using the lv_demo_music demo but I keep getting an 'undefined reference' error during building the project. It's the same when trying to include the squareline ui files. I think it has something to do with the CMakeList files but I can't find it.
Screenshot and/or video
undefined reference: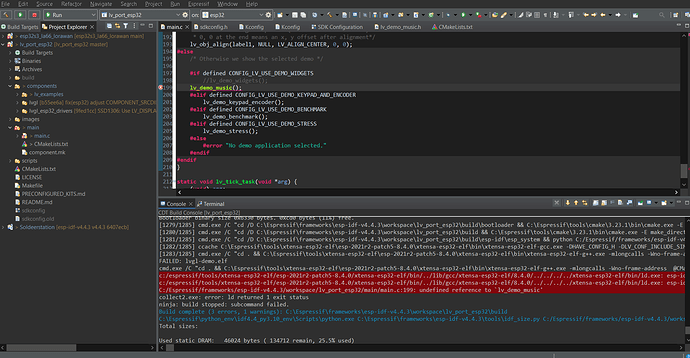 CMakeLists.txt in main:

Can somebody see what i'm doing wrong and help me?
Thanks in advance!