Hello! First post here.
I tried posting on Micropython's forums but this is possibly the most recommendable place to ask, so kindly forgive the 'cross-post' if someone reads both forums.
I am experiencing issues with the Micropython + LVGL firmware (compiled with all default settings) on an ESP32 Wroom chip.
Things seem to go terribly wrong every time I try to instantiate a network.WLAN object.
I am not able to debug any further, but I was able to reliably reproduce the error I get through a simple procedure:
(1) Install fresh firmware
(2) Run following code:
	import network
	wlan_sta = network.WLAN(network.STA_IF)
(3) The code seems to run fine…: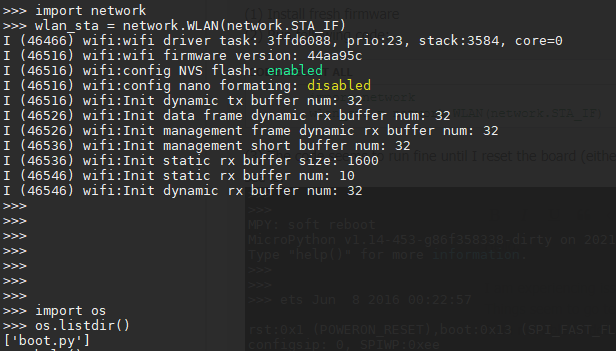 (4) …until I reset the board (either through machine.reset() or via the hardware button), after which all I see is: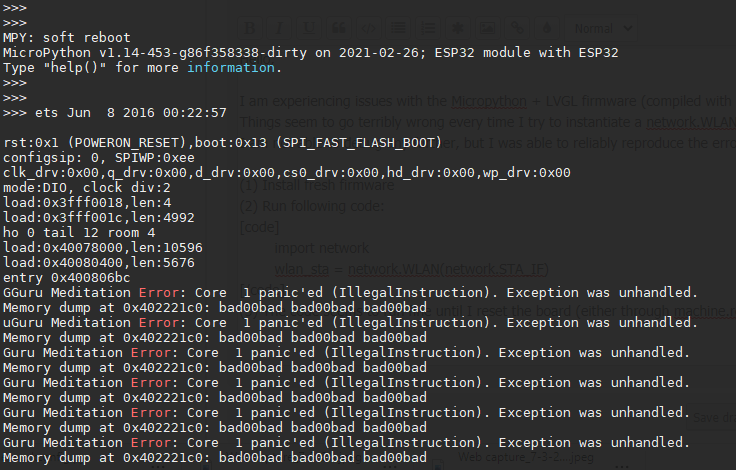 And to my best knowledge, all I'm left with is to have to erase_flash the chip, and to re-deploy a fresh firmware.
It looks like initiliazing a WLAN object causes some sort of permanent damage which prevents the board to ever reboot correctly, but I don't seem to have the skills to pinpoint the reason, and Google has not been my friend on this issue.
I've tried using two different ESP32-WROOM and the issue happens with both.
I also verified that they have a clean and good enough power supply.
Could anyone point me in the right direction to get this issue sorted?