I've ported my code to compile and run on a ESP32 S3
Using LVGL 8.1, ESP-IDF, VS Code Insiders
I have tried in two ways:
1). Using a modified lv_port_esp32 that will compile with LVGL8.1 and also a modified driver of ili9488.
2). Using ESP-LCD with a driver that I wrote for the ili9488, and LVGL8.1.
When I compile and run both 1 and 2 on an ESP32 using the same LCD (BuyDisplay) 480 X 320
and driven using SPI, it works perfectly.
The same code running on the S3 results in Banding of the LCD.
The LCD properly initializes, but I suspect something to do with the SPI bus on the S3 that results in this artefact.
I've been at it for days, but just cannot resolve the issue.
I'm hoping someone can perhaps point me in the right direction, or at least give some sort of advice.
The screen appears as follows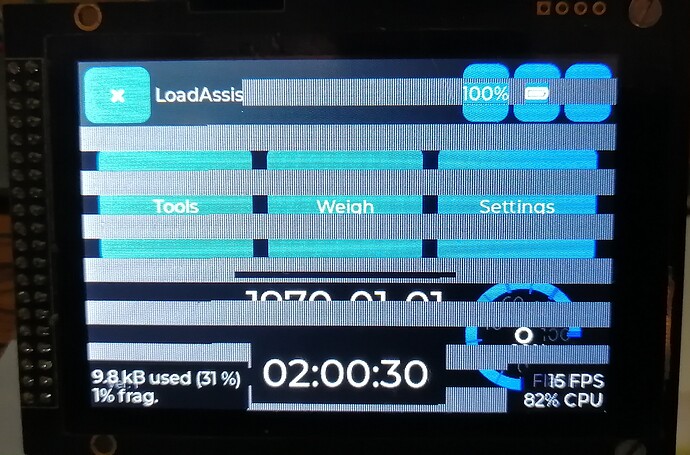 Also notice that small areas that are updated are rendered perfectly, eg memory and FPS, and also the time. See video attached as a zip file.
VID_20220105_180947.zip (1.9 MB)
I hope that somebody will have the solution, or point me in the correct direction
Thx
I have altered the flush routine, to only display the i.e… 480 X 40 buffer to the first 0,479,0,39 memory region, and alternately flush to the next consecutive memory area 0,479,40,79 and instead of them being directly below each other on the screen, there is a empty band of 40 lines in-between.
This only happens with S3 port.
See image below.
Hoping somebody will have an idea, as to the cause.