Does the project plan to launch v8.3 recently
I believe the current plan is to release v8.3 at the beginning of July.

Confirmed

Is there an exact release time? Recently, I am preparing to add a new function(Customized for small screen) to lv_ime_pinyin, which can be completed within this week at the latest.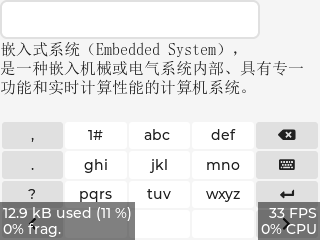 Yes, my plan for the release is Wednesday this week. After v8.3 we start to work on v9 where this new feature can be added too. But note that, in v9 there will be some backward incompatible changes but likely not that much.
I hope 9-key input mode can be released with v8.3, so I finish 9-key input mode today.
lv_ime_pinyin.zip (1.6 MB)
enable the 9-key input mode of IME_PINYIN by 100ask · Pull Request #15 · lvgl/lv_web_emscripten (github.com)
The following is the operation effect: