Hi there,
Description
Thanks to your examples, documentation and your help, I have been able to run LvGL (6) on F746NG with MbedOS in the past. I also made a "guide" how to start with the Mbed and the LVGL for beginners/hobist, like I am. I have now updated to version 7 of the LVGL.
When I checked the new demo then I found some issues on the Selectors page with the calendar and the roller, on the 480x272 resolution.
the calendar has an issue with its font or column size when the calendar's dimensions are lower then 220x220.
In the roller the text is cutted out when it is out of selected row. Probably also dimension size.
What MCU/Processor/Board and compiler are you using?
STM32 Discovery F746NG (480x272)
Code to reproduce
No code is needed, just run the simulator with 480x272 resolution and you will see.
Screenshot and/or video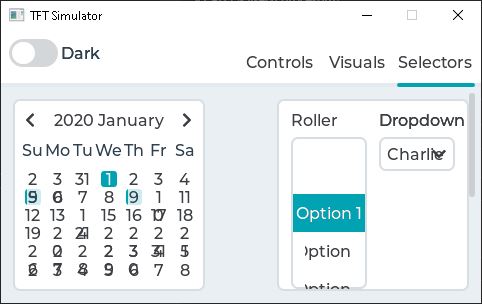 BR, Jan